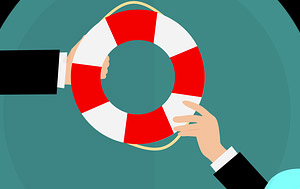 On August 24, 2022, the President launched a new program to forgive up to $20,000.00 in Student Loan Relief to millions of Federal Student Loan Borrowers.  Here are some questions and answers about this program, what it will do, what it won't do, and what to do next if you owe student loans.
Who qualifies for Student Loan Relief?
People who have Federal Student Loans, who make under $125,000.00 per year, or married couples who make less than $250,000.00.
How do you know which loans are Federal Student loans?  You need to log in to check on the studentaid.gov website to find out which loans are in that system.   Then log in and find your loans, and the balances.  Direct, Parent Plus and Grad loans all qualify.  Federal Family Education Loans (FFEL) loans may not qualify.
Who qualifies for $10,000.00 and who qualifies for $20,000.00?
People who got Pell Grants qualify for the higher amount of forgiveness.  Log in to the studentaid.gov website and go to the My Aid tab to see.
When and how will Forgiveness happen?
In October, an application should be available on the US Department of Education Website.  Some people, such as those on an income driven repayment plan, will get automatic relief if the US Department of Education already has your income data.
What happens if my Loans are not Federal?
Those loans are Private Student Loans, and you will not get any loan forgiveness.  You will need to have a payment plan in place and keep up with those payments.  You need to keep in touch with your lender to be sure that you are not in default on those loans.  If you are in default, you can be sued, and your wages can be garnished. Call us if you are having trouble with your Private Student Loans, or cannot afford the payments.  You do have other options!
How long will the process of forgiveness take?
After you submit the application, they expect the process to take 4-6 weeks.  The Department of Education is encouraging borrowers to submit their application by November 15, 2022, to get the loan forgiveness before the student loan payment pause ends December 31, 2022.
What else is included in the recent Announcement?
Federal Student Loan Repayments have been paused again until December 31, 2022, and this should be the last pause. So it will be up to you to set up your payment plan.
The Income Driven Repayment Plans have been changed, and the Public Service Loan Forgiveness Plan (PSLF) wavier making it easier to qualify and to count previous payments, is only in effect until October 31, 2022, so you need to get your application in right away for that. And, there are steps to take to get that done.
Where can I go for more information?
Call me at 312-789-9999, or email me at  djw@DWinterLaw.com.  We can help you with all of your student loan options, to help you get the most relief possible!
Daniel J. Winter
BankruptcyLawChicago.com