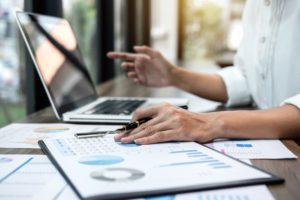 Most of us have dealt with money issues at one time or another. You may have lost your job or received unexpected bills. A medical issue can suddenly lead to thousands of dollars of debt.
Debt can quickly become overwhelming. It can be hard to stay on top of all your bills. Perhaps you are tired of living paycheck to paycheck and you just want a fresh start.
Chapter 7 bankruptcy can help with that. This type of bankruptcy discharges (eliminates!) all of your unsecured debts (credit card, medical). You will not have to pay them back. You get a clean slate. And, by consulting with an experienced attorney, you will find out what you can protect in your situation. That is because Chapter 7 Bankruptcy allows a court appointed trustee to review your assets, and see if you own more assets than what you can protect. In most cases, people keep their house and car, and other possessions.
---
The Bankruptcy Means Test
The means test makes it so that not everyone can simply file for bankruptcy and wipe out their debts. Those with a high amount of disposable income do not qualify. You will need to determine how your household income compares to the median in your state. If it is less, then you automatically qualify. If it is above the median, then you need to calculate your disposable income, which can get complicated.
When we calculate the means test, the formula allows certain amounts of expenses, and then the test calculates how much money you have left over. If it is higher than a certain amount, then you fail the means test. But, when we complete the means test, there are many items which vary for each person. We will use our experience to give you the best possible result to see if you qualify. It's not simply plugging in a few numbers.
However, even if you do not qualify for Chapter 7 bankruptcy, you may still qualify for Chapter 13 bankruptcy, and the means test will determine how much of your debt you are required to pay back.
---
Chapter 7 for Individuals
Chapter 7 bankruptcy is a good option for consumers who simply have too much debt and can not keep up with payments. They may have lost their job or come across unexpected expenses, such as medical bills or car repairs. If you take the means test and your income is below the median, then you qualify for Chapter 7 bankruptcy. If you want a fresh start, but do not have a regular income, Chapter 7 can wipe out the majority of your debts.
In this type of bankruptcy, we will consult with you to see what you own, and who you owe. We will then review your entire situation so that you know exactly what we expect will happen. In most cases, people can keep their house, car, and other household goods, and eliminate their unsecured debts.
A Trustee is assigned to review your case to see if you own more than you can protect. If you own more than what you are allowed to protect, the trustee may sell your assets, and use the proceeds to pay your debts. This happens in a very small number of cases.
Chapter 7 bankruptcy will wipe out unsecured debts such as credit card bills and medical bills. You are still on the hook for certain debts, such as tax debt, child support, alimony, and student loan debt. For student loan debt, you might be able to discharge that debt if you can prove that you have a permanent injury or illness that will prevent you from paying back your student loan debt. (Called the "Bruner" or "undue hardship" standard) Any attempt to discharge student loans are done in a separate and very difficult court proceeding.
---
Chapter 7 for Businesses
If you own a small business and serve as a sole proprietor, then using Chapter 7 bankruptcy to resolve your debt issues can be beneficial. The incorporated business, however, does not receive a debt discharge under Chapter 7.
If you are a sole proprietor, you and your business are treated together under Chapter 7 bankruptcy. It's important that you review this carefully with us, though. If you have more business debt than personal debt, you are not required to complete the means test, however you still have to show the court that you are filing in good faith and cannot pay your bills.
With regard to keeping business assets, it is very important that you discuss those assets and accounts receivables with your attorney, as you may or may not be able to keep them. And, you should discuss whether you want to try to keep your business running or close it. We can help you come up with a plan going forward.
---
What You Should Know About Chapter 7 Bankruptcy
Chapter 7 bankruptcy offers many benefits for those drowning in debt. If you have tens of thousands of dollars in debt and are struggling to make minimum monthly payments, you can get a fresh start. Even if you are only able to make the minimum payments, it can take decades to pay your debt.
We can help you take control of your life! You will start with a clean slate and $0 in debt.
• The Chapter 7 bankruptcy process takes just four to six months, so it is fairly quick. You can start improving your credit right away.
• You will continue paying on your house and car if you want to keep your assets.
• You are required to complete 2 counseling courses, one before you file, and one after you file. We will give you instructions on how to easily do these courses. There are also fees involved, including bankruptcy filing fee and lawyer's fees.
• A Chapter 7 bankruptcy will show up on your credit report for 10 years, but your credit will recover well before then, making it easier to get credit, starting right after your discharge.
---
Contact a Chicago Chapter 7 Bankruptcy Lawyer Today
If you are overwhelmed with debt, it is time for a fresh financial start. A Chapter 7 bankruptcy may be able to protect your business and save your house, car, and personal relationships. It is important to understand the pros and cons of bankruptcy, and how it will affect you and your family, so you can make an informed decision based on your personal situation.
Daniel J. Winter is a compassionate Chicago Chapter 7 lawyer who can help you during this stressful time. He can tackle your financial challenges and help you find relief and peace of mind.