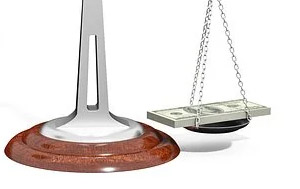 In order to Discharge a student loan in bankruptcy, the US Bankruptcy Code, Section 523 (a) (8) requires the Debtor to prove that repaying the loan(s) "would impose an undue hardship on the debtor and the debtor's dependents". Courts around the country have been left to interpret this statute. The recent history of student loan litigation in bankruptcy has relied on Bankruptcy Courts around the country using either the Bruner standard or the "totality of the circumstances" test.
In order to discharge student loans, a Debtor has to file an Adversary Proceeding, which is a lawsuit within a Bankruptcy case. When Debtors have brought adversary complaints to try to discharge student loans in bankruptcy, very few have succeeded. The Debtors who have succeeded were the ones who are disabled and have little hope of working again. The costs of bringing these adversary complaints, and the small chances of success led to very few Debtors even trying to discharge their loans. The adversary process for these complaints have been a very long, drawn out process with no way to predict the outcome.
On November 21st, 2022, the US Department of Justice distributed new guidance to their attorneys in how they want their attorneys to handle these complaints going forward. Here is what the guidance does NOT do: It does not (and cannot) change the law as it stands now. Nor does it change the standards that the Judges have been using to discharge loans. And, it does not apply to private student loans (those given by lenders other than the U.S. Department of Education).
Here is what the guidance does do: It creates a format for the Debtor to get documents to the Department of Education, along with definite standards that the government attorneys can use to evaluate each case. It creates forms that the Debtors and their attorneys can complete, and a list of documentation needed. The forms and documents are provided to the government attorneys, and they can evaluate the Debtor's situation in a much more streamlined manner. Once the U.S. Attorney gets this information, they will have more definite standards to help review the Debtor's financial situation to determine whether they will oppose the Debtor's request for discharge or not.
Will this make discharging student loans in Bankruptcy easier? In some ways, yes. If a Debtor has the right facts, such as low or no income, and general inability to pay, is older, and has no hopes of repaying the loan, it might make it more likely for them to file that complaint and try. The more streamlined process will make it less costly to file and proceed on an Adversary Complaint, so more Debtors, with more attorneys, will be able to try to discharge their student loans. And these published guidelines hopefully will bring more predictable results.
I am optimistic that more student Debtors will be able to discharge their student loans in the near future.
As more Debtors bring more Adversary complaints, we will see how the Department of Justice's guidance influences the discharges of student loans. Call me if you want to talk about your student loans and whether they can be discharged in bankruptcy. There are also many other payment plans that the Department of Justice offers, and I can help with that as well.
Daniel J Winter
StudentLoanLawChicago.com
312-789-9999
djw@dwinterlaw.com