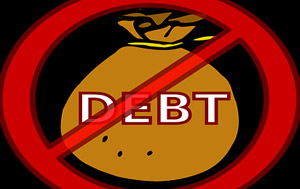 With the Stanley Cup Playoffs in full swing, more eyes have been on the NHL. And, living in Chicago, the Blackhawks are contenders again.  In hockey, there isn't a lot of scoring, but when there is a goal, it is very exciting!
I am an attorney, but sports metaphors always seem to work!  When I meet with clients, one of the first questions I ask is, "what is your goal?".  It seems pretty simple, but it is the single most important part of my meeting.  We all have goals.  Some are for health or fitness, or weight.  But, for finances, you can lose track of your goals.  Money and finances seem so complicated. But, if you step back and figure out what you are trying to accomplish, it becomes a lot easier.
For many people, the problem staring them in the face is their goal. They come in when their paycheck is being garnished, and want to stop the garnishment.  Or, their car is about to be repossessed, and they want to keep it.  Or, their house is in foreclosure, and they want to save their house.  In other situations, a business owner may want to stop a lawsuit.
But, for others, the goal is to have more money (or any money) left at the end of each month.  If you don't have money left at the end of the month, it is hard to follow the financial advice to save "for a rainy day".  Sometimes, a few adjustments can help with the monthly bills, and help you start saving money.  Is your goal to be able to pay your student loans?  How can you do that with other debt, such as credit card payments each month?  Is your goal to live life a little easier, not having to worry about money all the time?
What is your goal?  Think about it before you ask for help from financial professionals.  Then, we can talk about it.  We can help you make a plan for a stronger financial future.  Money is just a tool to accomplish your goals.  If you just spend your time working, without paying attention to your goals, you won't have a clear picture of how to use your money wisely. You might think, oh, my goal is to make more money. But, it's not that simple.
Call us, we can talk about your goals, and come up with ways to get there, and "score" your goal!
Daniel J. Winter
BankruptcyLawChicago.com
Offices in Chicago, Gurnee, Oak Lawn, and Skokie, Illinois