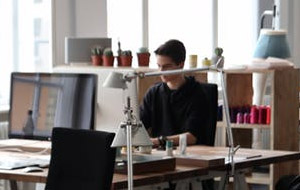 Why Payday Loans?
You're out of money for the week, your car breaks down, and you've maxed out on credit, and tapped out for loans from friends or family. What do you do? You just need money until your next paycheck.  All too often millions of Americans are faced with this situation.  An estimated 12 million Americans each year rely on "Payday lenders" to bridge the gap.  Many states have strict rules on the amount that a person can borrow, the term of the loan, and the interest rates.  Why would states regulate these kinds of loans? Because the people who need the money are desperate, have few choices, and are vulnerable to shady lenders.  Before payday lenders, there were loan sharks, who would threaten physical harm if their loan isn't paid back.  It makes sense, though. Many people at this point can't get a bank loan, so the Payday Lenders fill the need.  Now you can get Payday loans in local strip malls, and online with a few clicks.
Why Indian Rervations??
Some Payday Lenders figured out a way around the states' regulations.  Scott Tucker is one of them.  The scheme went like this: Make a new corporation, owned at least in part by an Indian Reservation, where the strict state laws on lending don't apply. Offer loans at extreme interest rates.  And, put in predatory loan terms, such as that the first payments go to loan fees and not to interest or principal on the loan.  People try to pay back the loans over the next few weeks or months, and can't do it!  They are trapped in a predatory loan.  Then they have to borrow even more to try to pay them!
Who is Scott Tucker?
Scott Tucker started his business in Kansas City, MO, in the Mid-1990's and made it into a multi-billion dollar Empire.  He also became a famous race car driver.  "Tucker's businesses, which operated under brand names like 500FastCash and Ameriloan, charged interest rates ranging from 400 percent to 700 percent, far beyond rates permitted by states that regulate payday lending."https://www.kansascity.com/news/business/article193241289.html  So, if you borrow $500.00, by the time you pay it back, you'd be paying more than $2000.00!  He is featured in one segment of the Netflix Series "Dirty Money".  I'd recommend that everyone who has ever gotten a loan see this episode! It is truly shocking to see his reaction, no remorse, after scamming countless working and elderly people.  You'll see the Federal Authorities repossessing fancy cars, furniture and artwork from his home, with him saying he's the victim.  He was sentenced to over 16 years in prison, along with millions of dollars in penalties.
Unfortunately, there are many more Scott Tuckers out there, just waiting to prey on people who need cash quickly. They just haven't been caught!  And, with the current trend relaxing lending standards across the country, more are certain to join the act!  The industry is politically connected and donates large amounts of money to many congressmen and women, to continue to allow this predatory lending with little regulation to help the vulnerable workers who have few choices.  Apparently, the lenders are dirtier than Dirty Money shows!  https://medium.com/@mshannabrooks/payday-lenders-are-somehow-even-worse-than-dirty-money-makes-them-look-58c7f68d9ac3
Watch Out!!
So today, watch out, because it's "Borrower Beware"! Look at the fine print on Payday and Internet Loans!  And, avoid them at all costs!!  Usually, by the time you are looking for these types of loans, you have bigger debt problems.  Avoid the trap if you can!
If you've been a victim of a payday loan, call us, we can help.
Daniel J. Winter
BankruptcyLawChicago.com