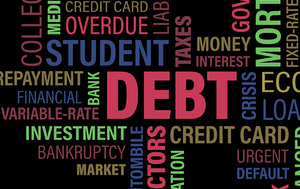 Congratulations!  You worked hard, studied hard, and came through in the clutch!  You aced those exams, and turned in all the papers!  Now, you are lining up that first job out of college! You are getting ready to really strike out on your own! But, don't "strike out"!  You have to take batting practice.   This means that you have to "learn the fundamentals" of life—we are talking about your finances.  Yes, this sounds just as boring as batting practice!  But, how do the Cubs and Sox players hit home runs? With the right fundamentals!  (See, articles on your money don't have to be boring, right?)
So here are some fundamental tips, your financial batting practice, based on these 7 Money Tips for New Grads from Marketwatch.com, so you can hit a home run with your money. But, rather than hit a home run right off the bat, you have to aim to hit solidly, for singles. So what moves will prepare you to win the game?
Get your important papers in order! How will you know where to start the game if you don't have a starting lineup?   So, organize your important documents!  Have your birth certificate, social security card, marriage certificate (if you are married), and diplomas ready to go!  Keep the documents in a safety deposit box, and know where the key is!
Figure out your student loan!  This is  important!  Be sure you find all of  them, and try to consolidate them into one payment. Get a deferment if you can't pay them right away, or apply for an income-based repayment plan. The Federal loans have many programs, and we can help you figure out the best plan for you.  Private loans don't have the flexible terms. But, in any case, don't ignore them, and don't let them go into default.  If they are in default, get them back on track.
Make a budget. Now this sounds boring! But, there are so many money apps and websites out there, that you can just input your bank information, and it will help you easily figure out what you are spending your money on. A great site is mint.com.  There are many others!   This counts as a single.
Open the proper accounts:  You'll need  a checking account, and a savings account, so that you can put aside even $100/month, right away!  You'd be surprised at how fast the money goes, so start putting away money with your first paycheck.  You'll need a debit card to go  with the checking account, too, so you can just make purchases, without having a lot of cash.  And, you'll need a credit card. This is where you should be careful. Don't have more than 1 card, and, you shouldn't have to pay an annual fee.  Even rewards cards can be free each year. Shop f or the best deal.  Remember to plan on paying the card off each month.  You eliminate any rewards if you pay interest!  Paying the card off each month, now that counts as a double!
Insure yourself. First off, you have to have health insurance.  It's the law, no kidding, but after your first doctor visit, you'll understand why.  Without your parents' insurance, any sickness can be very scary without insurance.  Of course, you need automobile insurance if you plan on driving any place, with anyone's car. Even if you don't own a car, get liability insurance.  You won't want to be in an accident and have to deal with paying for the other guy's medical bills!  Renters' insurance is also helpful, to avoid any big losses from theft.  This counts for another single.
Have enough Savings for Surprise Expenses!  This is important! With your very first paycheck, you can't just go to the store and blow it on clothes, or on food and drinks with your friends! Now that you are on your own, you have to hold some back for car repairs, rent, and other not-so-sexy stuff!  If you live paycheck-to-paycheck, there is no room for error.  It's like you are pitching with the bases loaded each inning!  So, this is where you play defense, and take some money from each paycheck to hold back.  If you are hitting, this is a solid double. Well needed to score some runs!
Plan for your retirement!  Boy, this is the boring part!  Who wants to talk about retirement. That's for old people! Wrong!  When you start working your first "real" job, for your career, you need to sign up for any retirement plan that is offered at your job. Many employers have matching programs, which is free money!  You put in $1, and your employer puts in $1!  And, if you are young, your money will grow a lot over the time you are working!  If (or when) you leave that job, depending on how long you stay, you get to keep some or all of that free money! Now that's a home run!
If you are a recent college grad, you have a long career ahead of you!  If you start your financial career hitting singles and doubles using this advice, you'll end up winning the game in the end!  You won't be rich right away, but if you are patient at the plate, you'll end up living a well-organized, healthy, financial life.  If you have  questions along the way, call  us, we can help you in the major league of life.
Daniel  J. Winter
BankruptcyLawChicago.com
312-789-9999
Offices in Chicago, Gurnee, Oak Lawn, and Skokie, Illinois