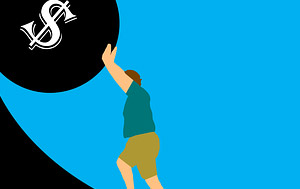 College-Bound Juniors and Seniors in High School, and your parents—this article is for you!  You filled out all of the "common-apps",  wrote the essays, and are sending off the applications to your dream schools, safety schools, and everyplace in between.  Parents, you did your taxes, and filled out the FASFA forms.  Soon, you'll be waiting for college acceptance letters or emails!  (Do you get a "thicker" email if you are accepted?!)
Before you get all of your dorm décor and other fun goodies to set up your room, you need to start thinking about money rules.  This goes beyond just figuring out a way to pay for college- loans, grants, financial aid, and work-study.  It's rules to live by in college.  Rules?!  What?!  You'll be away from home, there are no rules, right? WRONG!
Here are 5 Finance Rules that College Students Should Live by, according to this author in the Washington Post.  1. Start thinking about money now!  Yes, now, before you leave for school. Have a plan, and figure out how much you'll actually be spending each month.  It's more than you think!  2.  Make a budget—and stick to it!  Sounds boring, but there are apps you can use to help!  3.  Monitor your credit.  4.  Save money!  5. Live below your means! That means, watch your spending, and have money left each month!
These rules don't sound like "Animal House" to me!  But, you'll be a lot happier, and in better shape when you graduate!
Call us with your questions about money for college and beyond.
Daniel J. Winter
BankruptcyLawChicago.com
312-789-9999
Offices in Chicago, Gurnee, Oak Lawn, and Skokie, Illinois