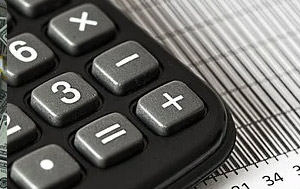 When most people think of financial success, they think of having a nice house, a reliable car and a good job to be able to pay for those things.  So after years or working, and renting, people start thinking of moving up to the next step, buying a house.  But, many people have had bumps in the road, and their credit isn't perfect.
So what credit score do you need to buy a house?    We are talking about the FICO score, named after the Fair Isaac Company, which seems to have a monopoly on the scoring system.  It may not be the best, but it's what almost all finance companies use to judge whether or not to give you credit.   Take a look at this article, which says that while a 720 score is ideal, even if you have a lower score, you can still get approved for financing a house.  With the FHA, the minimum score to get an FHA loan is 580, and the VA generally won't give a loan to someone with a credit score of less than 620.
What if your credit score is lower than those figures, or on the lower end?  You can still get home loans, but you have to show other factors, such as  conservative use of credit, having a significant down payment available, and long term employment.
The most important factor is to have your debt under control.  You should have a plan to reduce your credit card debt, because that's the most expensive.  Also, late payments lower your credit score.  Have a plan to conquer your debt and manage your finances.
If you have questions about your debt, your credit score, and how to achieve your goals, call us. We'd be happy to help.  Our office handles Asset Protection, Bankruptcy, and other ways to help you achieve your financial goals.
Daniel J. Winter
BankruptcyLawChicago.com
312-789-9999
Offices in Chicago, Gurnee, Oak Lawn, and Skokie, Illinois