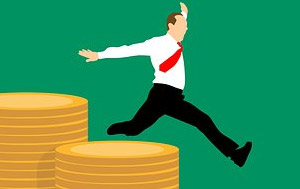 Paul Simon wrote the famous song back in the 1970s.  The song does still ring true for me, and my law firm.  When I started practicing law in 1991, I worked for several firms, did some divorce, real estate, and general practice work along with bankruptcy work, and realized that bankruptcy was the area of practice I liked the best.  But why, of all practice areas, would I pick bankruptcy?  Wouldn't that be difficult, and depressing?  What a crazy practice area!
I decided on making bankruptcy my practice area, first of all, because I was helping every-day people and small-business owners.  The best part of practicing law is developing relationships with so many different people, and helping them through some of the most difficult times of their lives.  Each week, I talk with new clients, and go through some of the most personal details of their lives.  I discuss their problems, and their hopes and dreams.  Then, I help them figure out ways to solve their problems, and get their lives back on track.  I give my clients different ways to accomplish their goals, different options.  Each path has different advantages and disadvantages. But, there is a way out.  Their decision might be easy or hard, but I can be there each step of the way, to guide them, and answer their questions.  Once we map out a path, I can help clients along the way.
Many people ask me, "how do you make money when your clients are broke?".  Bankruptcy practice is not an easy way to make a living.  I work with every client, and figure out a way to help them, and get paid too.  But, hearing from clients months or years later, telling me they made it through their problems with my help, and ended up with a much more secure financial future is important to me as well.
Bankruptcy practice has gone through a few "boom" times and "bust" times recently.  Just before the bankruptcy law changed in 2005, people raced to the courthouse, thinking that it would be impossible to get relief after the law changed.  They were wrong, but after that big rush, there was a lull for a few years, and some attorneys who didn't want to take the effort to adjust to the new law left the field.  When the real estate bust hit in 2009, I was busy, as were other bankruptcy attorneys.  And, many other lawyers, especially real estate attorneys who were short on work, entered the bankruptcy field.  Now, bankruptcy filings are on the decline nationwide, and the "casual" bankruptcy practitioners are out, doing real estate and other practice areas.
The common thread here is that I have been practicing bankruptcy law the whole time.  I do also defend foreclosure cases, but still continue to practice in consumer and small business bankruptcy Chapter 7 and Chapter 13 cases.  Why would I be so crazy as to stick with this niche practice area?  Because I want to know as much as possible about only a few practice areas, and be focused on the very complicated law.
Why does any of this matter to a prospective client?  The in-depth experience in bankruptcy cases over 20- plus years matters to me, to help my clients better.  If you have a situation, most likely, I've seen it, dealt with it and know how best to help you.  So, I am still crazy, but my passion is to help people, and do it the best way possible for my clients.
Daniel  J. Winter
BankruptcyLawChicago.com
312-789-9999
Offices in Chicago, Gurnee, Oak Lawn, and Skokie, Illinois