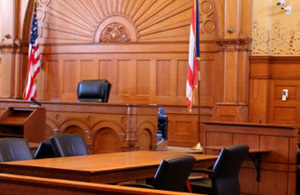 Way back in 2008, the States were supposed to start implementing the Real ID Act.  This requires a special, upgraded, and supposedly more secure ID, to be more uniform across the US.  Almost 12 years later, after the government granted states many delays, the Real ID Act is now mandatory, and will be enforced starting October 1, 2020.
You'll need to go to your State Department of Motor Vehicles, the Secretary of State in Illinois, to get your new ID with the fancy star in the corner in order to fly, and to enter all Federal Buildings.  And, from news reports, the lines and wait times are getting long.  See this Chicago Tribune Editorial.  Get your Real ID now, because, even if you don't have travel plans in the near future, you may need it when you least expect it!
And, I am now telling my clients to start the process now! Even though, October is 10 months away, you need to get it!  And, as an added incentive, if you are involved in a Bankruptcy Proceeding, certain locations for the Required Meeting of Creditors Court hearing are Federal Buildings.  You'll be required to show your REAL ID to enter the Courthouse!  You definitely won't want to go though the steps to file for Bankruptcy protection, only to realize you can't go to your own court hearing!
According to the Tribune: "Real ID looks similar to a traditional Illinois driver's license but includes a star logo in the upper right corner. To get a license with the telltale star, an applicant must show several documents: proof of identity (a passport or birth certificate); proof of Social Security number (Social Security card or W-2 form); two current residency documents with address (examples: utility bill and bank statement); proof of signature. Consult the state secretary of state's website for details."
Plan ahead, you won't be sorry!
Daniel J. Winter
BankruptcyLawChicago.com
312-789-9999