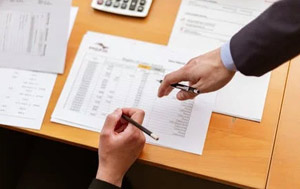 If you are a parent of a college student, future college student, or a student yourself, listen up!  There are big changes ahead!  Starting with the 2017-2018 School Year, the FASFA (Free Application for Student Financial Aid) can be filed starting October 1, 2016, and October 1st each year after that.  And, you use the most recent completed tax return, so, for 2017-18, use your 2015 tax return.
See the changes direct from the US Department of Education here.  This is good news on all fronts.  For parents and students, you will get a definite answer on how much you are expected to contribute  towards school, and how much aid you'll get.  That will help tremendously when looking for the right college.  For college Seniors, frantically starting the application process, they will find out a lot sooner how much each school will really cost.  In years past, students  would apply to a number of schools, and have to decide which school to accept, sometimes not even knowing how much would have to be paid out of pocket to attend.  Now, the cost of the school will be known when the student is early in the application process.
And, it is very important to get your FASFA in as soon after October 1st as you can. For many schools, and other scholarship programs, the money is given "first come first served", so if you delay, you could lose out on a lot of aid and scholarships.  Before, people had to estimate what their tax returns for the prior year would say.  Or, they would wait until the returns were completed, delaying the process.  Now, there's no excuse, just get the application in.
If you are already a student, or your child is already in school, you have to do the FASFA every year, so, only a little over a month into school, you have to think about the next year.
Also, don't think that you won't get any financial aid because you earn too much money, so you don't want to bother doing the FASFA.  Every family has to fill out a FASFA, and, there are many factors to getting aid, whether it is through the federal or state government, or directly from the school.
So, go to fasfa.ed.gov, and get started.  If you have questions about financial aid or student loans, we are here to help.  Take a look at this article I wrote before about how important the FASFA is, and things to consider for your family.
Daniel  J. Winter
BankruptcyLawChicago.com