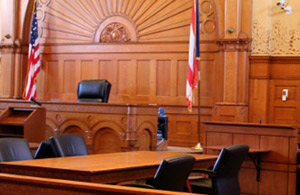 Bankruptcy Court is Open!
Emergency Declared– What are Courts Doing?
Back in Mid-March, when the President declared a State of Emergency for all 50 states, and most states imposed some sort of a stay-at-home order, most State Courts almost immediately shut down. In the State Court Systems, the only Courts still running, at least in Illinois, were the Emergency Criminal Courts.
Bankruptcy Court is Ready!
During that whole time, the U.S. Bankruptcy Courts, in the Federal Court System, kept running, without much delay.   Bankruptcy Courts have been conducting hearings by phone, available to everyone.  Why? My opinion is that no matter what, people and businesses will need ways to get relief from Creditors (companies or people they owe).  Without that relief, even more businesses would shutter.  And, people's paychecks could be garnished.
As part of the CARES Act, the Federal Government prohibited evictions, and required most lenders to allow people to delay mortgage payments.  This gave people a breather, which was needed, because people weren't able to go to work!  After this breather, you'll need to pay the Creditors, and they will begin to push for quick payment, as the Collection Courts reopen.
If you still need help, we can help you with Bankruptcy Relief, either Chapter 7 (debt elimination) or Chapter 13 (repayment plan).
What to Expect in Bankruptcy Now:
If you file a Bankruptcy case now, here is what to expect for the forseeable future:
You can meet with an attorney by phone or video, the "Touchless Bankruptcy" that I offer.  The easiest way to get your case done is to have access to a computer, so that you can scan and email documents to your attorney.  (Mail works, but can slow the process!)
You will be able to do the required pre-filing counseling course by phone or online.  Once we prepare your case, you can review and sign your documents online or by printing and signing the documents, and sending them back.  Before now, the Bankruptcy Court required a "wet" signature.  Now, electronic signatures are allowed!
After I file the Bankruptcy Case with the Court, you'll complete a second online or phone counseling course.
Your Court Hearing from your Couch!
Then, about a month later, you will have a Court Hearing, called a Meeting of Creditors.  Before, you would have to go to the Federal Courthouse, go through security, and wait in a large room filled with people for your hearing to be called.  The Court Hearings are mostly the same for Chapter 7 and Chapter 13 Bankruptcy.
Now, I will set up a phone or video conference about 30 minutes before the hearing to review your documents and prepare you for the Court Hearing.  Then, we'll have the Court Hearing by phone.  You'll need to be sure your phone is charged up to 100%!  We wait on hold together, listening to the other hearings, before your case is called.  It's important to mute your phone until your name is called, because everyone can hear!  The Trustee will ask about 3-5 minutes worth of questions, and you'll be done!  All without leaving your couch!!
These new procedures save a lot of travel time for everyone!  Not to mention, train, bus or parking costs!  It truly is a revolution in efficiency!  Many State Courts are starting video hearings, but they are only starting now.  Bankruptcy Court never closed!
We are Ready to Help You Now!
It's a brave new world, and Bankruptcy Courts have changed with the times to keep working!  We also adapted with all of the new technology! We are ready to help you when you need it, or if you just have questions about your situation.
Daniel J. Winter
BankruptcyLawChicago.com
312-789-9999